With LiquidPlanner's Google Drive™ integration you can store and manage your files in Google Drive™, then attach a link to them from any plan item in LiquidPlanner. You can also upload files from your local drive, Box or Dropbox. Link to External Files and access documents stored with services such as Sharepoint, Microsoft OneDrive, Apple iCloud Drive, and SugarSync.
If you don't already have a Google™ account, visit www.google.com to create your free Google™ account.  There is no need to reference LiquidPlanner when creating a Google™ user account.
Sharing Documents in Google Drive™
Before attaching Google Drive™ files in LiquidPlanner, make sure the files are set to shared status. Select one file to share or multi-select to share more. Right click and share, or select the share link from the Google Drive menu bar.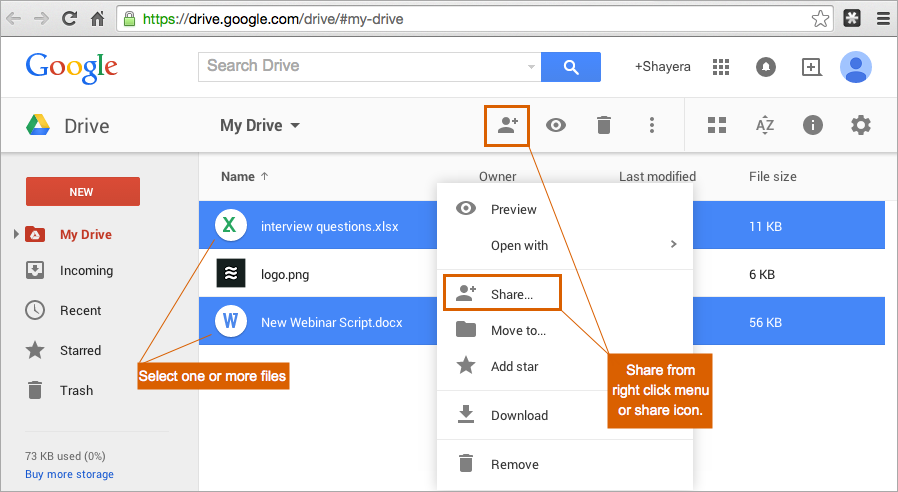 Access the share settings by clicking on the Advanced link.
Open the share settings by selecting "Change."
Once Link Sharing is open, select " On – Anyone with the link" and Save. In the Access section, determine whether you want user to view only, have the ability to comment, or have the ability to edit your files.
Saving will take you back to the sharing settings window. Review settings and click Done. Sign out of Google Drive™.
 Attaching Google Drive™ Files in LiquidPlanner
In your LiquidPlanner workspace, go to the Documents section of the plan item's Edit Panel and click Add > Load from Google Drive™. 
If necessary, override the pop-up blocker in order to authorize LiquidPlanner.
When prompted, log in with your Google Drive™ credentials.
Authorize LiquidPlanner to access your Google Drive™ files, click on Accept.
After completing the authorization, you'll see your Google Drive™ directory in LiquidPlanner, where you can select the appropriate file:
You can now click on the file name in the Documents  section of the Edit Panel to access the Google Drive™ file. If you get the following error message, you need to log back into your Google Drive™ account and share the file that you selected (see the "Sharing Documents in Google Drive™" section above):
Additional Information
Google Drive™ files are stored on the Google Drive™ servers, so they are not subject to LiquidPlanner file size or storage limits.
At this time Google Drive™ integration is limited to individual files only.  It's not possible to attach a link to a Google Drive™ folder.
Your LP team members are not required to have a Google™ account in order to view and download the Google Drive™ files that you attach in LiquidPlanner. However, it is best if your LP team members have their own Google™ accounts if you want them to participate in full document collaboration with you on Google Drive™.
If a Google Drive™ file is attached in LiquidPlanner and later updated via Google Drive™, the link from LiquidPlanner updates automatically.  This ensures that your LiquidPlanner workspace members will always see the most current version of the file when they open it via LiquidPlanner.
You can download and install Google Drive™ to your local directory. If changes are made via Google Drive™ installed on your computer, those changes will be reflected in the file versions uploaded on the LiquidPlanner plan item.
It is not possible to upload a file into Google Drive™ via LiquidPlanner, even if it is a copy of a file that you downloaded via LiquidPlanner.  Uploading into Google Drive™ is done directly in Google Drive™.
Related Articles
Upload and Manage Files
File Management with Box
File Management with Dropbox