Each time you log progress against a task, the time entry is associated to an Activity.
Workspace administrators can define a full set of activity codes for the workspace. They can be added individually, or in bulk.
Go to User Menu > Settings > Data Customization  > Activities.
Let's look at an example using activities to facilitate billing. On the activities page in this workspace, there is a billable activity called "Designing."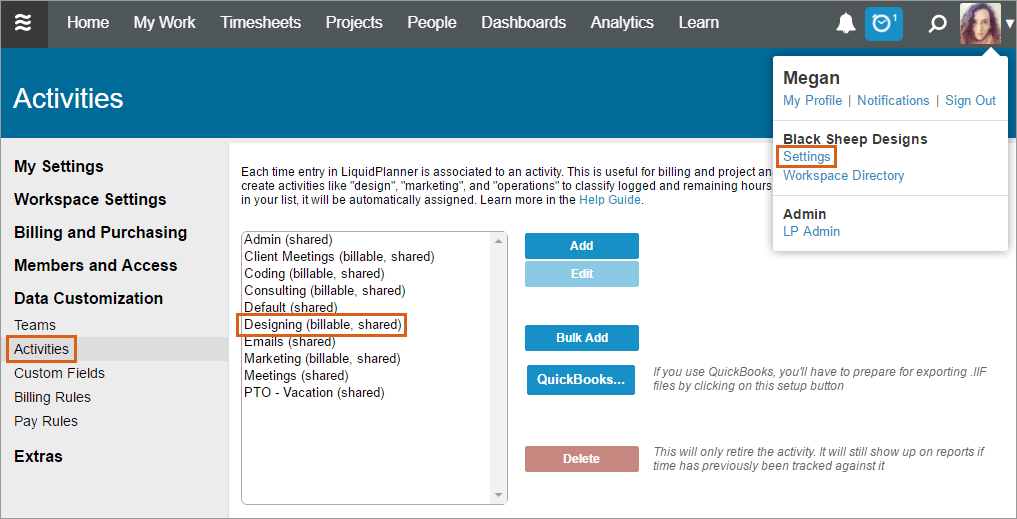 To associate this activity with a set of tasks, they are multi-selected on the Projects tab, and the Default Activity is set on the Edit Panel. Update the Activity field in the People section when the value is "mixed" or if an Activity is set there already. If a member has a Personal Default Activity set in the workspace, update the Activity field.
When working with activities, you might like to expose that column in the plan for easy reference. This column displays the default activity for each plan item.
When you track time against a task, the time entry will be associated to the activity that has been set on the task.  All this encoding flows out through timesheet exports.
Rate Sheets can be used to calculate dollar values for your billable or payable tracked time.  Your timesheet export will include these dollar calculations.
Related Articles
Create Activities and Link to Tasks
Using Rate Sheets for Billing and Pay Rules
Tracking Time